With increased interest in green and hybrid vehicles, it's likely that you've noticed more green licence plates on the road. Ontario rolled out the green vehicle plates in 2009. Drivers with plug-in hybrids and battery-powered electric vehicles are eligible for these plates. If you are considering going green with your next vehicle purchase, here's what you need to know about the Green Licence Plate Program in Ontario.
Green Licence Plate Program
Green plates are available for eligible types of low-carbon vehicles. Vehicles with green licence plates can drive in:
If you have a green licence plate, look for these signs on HOV and HOT lanes: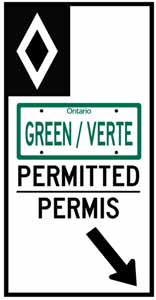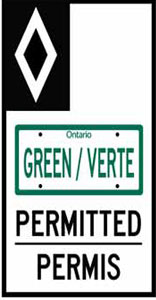 Eligibility for green licence plates
Green licence plates are available to individuals, businesses and commercial fleets. If you are worried that the price of going green will increase the cost of licensing, you can relax. If you drive a green vehicle, the plates are optional and cost the same as regular licence plates. In Ontario, vehicle licence plates with a permit currently cost $59.
Ontario.ca outlines which vehicles do and do not qualify for the program. The following types of vehicles are eligible for green vehicle licence plates:
Hydrogen fuel cell vehicles (HFCVs)
Used 2010 or later model year PHEVs and BEVs
PHEVs, BEVs and HFCVs currently operating in Ontario in limited numbers as part of a pilot study or test program
There are some vehicles that are not eligible for the program:
Commercial vehicles weighing 3,000 kg or more
Low-speed vehicles
Off-road vehicles
Conventional hybrid electric vehicle (HEVs)
Vehicles that have been converted to plug-in capability
These vehicles are eligible for green vehicle licence plates. The MTO website updates this list every three months (quarterly). The last update was April 12, 2022.
We recommend visiting the Ontario Ministry of Transportation's official website for a comprehensive list of the vehicles eligible for Ontario's Green Licence Plate Program. A variety of car manufacturers, such as Audi, Ford, Honda, Kia, and BMW, have all made the list with eligible models. There are tons of budget-friendly options eligible, along with luxury cars, like Jaguar and Tesla.
Where can I get my green licence plates?
If you are in the market for a green licence plate, they are available at any ServiceOntario centre. If you're buying a new vehicle, your dealership will typically process the vehicle registration for you. That means you can drive your Tesla off the lot without any headaches or worrying. If you are looking to get personalized green plates, unfortunately they are not available.
How can driving a green or hybrid vehicle impact my car insurance? 
There are many other perks to driving a green vehicle other than just having access to HOV and HOT lanes as a solo driver. Although driving a green or hybrid vehicle will not directly impact your car insurance rates, it is important to remember that the unique lifestyle and environmental benefits will often outweigh the cost.
Since electric cars are more expensive to maintain when they do require it, insurance rates will be higher than for an average car. The Zero-Emission Vehicles Program (iZEV) may be able to cover higher insurance rates or provide rebates. Visit the Government of Canada's website to see an updated list of eligible vehicles. This program only covers vehicles purchased after May 1, 2019. So, if you are considering buying an eco-friendly vehicle, this offer is great to keep in mind. If you are already driving a green or hybrid car, we recommend speaking with a member of our isure team to learn of any discounts you can take advantage of.