Some of the most important areas to drive safely in are school zones. And now that school is in-person again, it's more important than ever to be cautious and aware when approaching these areas. We break down everything you need to remember when it comes to school zone signs and speed limits in Ontario.
What is considered a school zone?
You will know you are entering a school zone when you see a fluorescent yellow sign featuring two pedestrians crossing.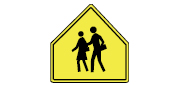 If you do happen to come across one of these signs, you should automatically slow your vehicle down, drive with extra caution and watch for children.
What is the speed limit in a school zone?
When driving in a school zone, the most important thing to remember is to follow the speed limit. In Ontario, the speed limit in these areas is between 30 km/h and 40 km/h. There will be signs surrounding the school zone to remind you. However, if you've been driving close to 50 km/h and have to slow down to 30 km/h, having these numbers memorized is the easiest way to avoid a collision or accident. 
Always yield to pedestrians
Following the speed limit will also help with yielding to pedestrians, another vital rule to remember when driving in a school zone. With children outside playing, school buses dropping children off, or cars parked by faculty and staff, there are many hazards to look out for. Following the speed limit will alleviate stress or chance of collision in these areas, keeping everyone safe. 
What is the fine for disobeying school zone signs?
There are also substantial fines for speeding in school zones that you should be aware of. If you are speeding 10 km/h over the limit, you will be fined $95. 20 km/h over the limit is a $180 fine and three demerit points, 30 km/h over is $450 and four demerit points, and 40 km/h over is $595 and four demerit points. These speeding tickets can also affect your car insurance rates, with the increase depending on the severity of the infraction. For example, one ticket could affect your premium for at least three years! 
When to stop for a school bus
Ontario drivers are subject to strict laws around school zones and buses. Here are some general rules to keep in mind when driving:
On the road WITHOUT a median strip, drivers travelling in both directions must stop for a school bus stopped when both its upper red lights and stop sign are flashing. When stopped, drivers travelling in the opposite direction are required to stop at what the driver considers a safe distance for students to cross the road.
When a road has a median strip, only vehicles following the bus are required to stop.
If you are stopping behind a bus, you must allow a minimum of 20 meters of space from the bus.
Drivers must stop for a school bus at any time, not just during school hours.
Obey school crossing guards
Many school zones have crossing guards at crosswalks. Ontario drivers are required to obey a crossing guard's instructions to stop. When a guard displays a stop sign, you MUST remain stopped until everyone, including the guard, is safely off the roadway.
School zone signs to look out for
This sign warns you that you are coming to a hidden school bus stop. Slow down, drive with extra caution, watch for children and for a school bus with flashing red lights.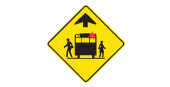 These signs warn of a school crossing. Watch for children and follow the directions of the crossing guard or school safety patroller.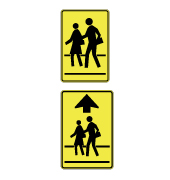 The speed limit in this zone is lower during school hours. Observe the speed limit shown when the yellow lights are flashing.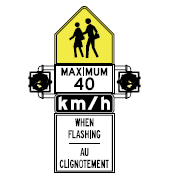 Marks a zone within which school buses load or unload passengers without using the red alternating lights and stop arm.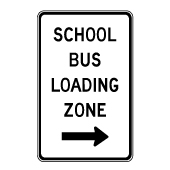 Stop for school bus when signals are flashing.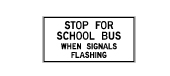 This sign is installed on multi-lane highways with no centre median divider. It informs drivers approaching from both directions that they must stop for a school bus when its signal lights are flashing.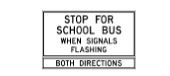 All sign photos and descriptions, courtesy of ontario.ca.
We hope this article helps you understand what you need to know when it comes school zone signs and speed limits in Ontario. Happy safe driving!